It's Tip Friday. And todays tip is Piping
Piping With a Pastry Bag
Ok. You have now prepared your favorite cake or cupcakes.
Or perhaps a large cookie for that special occasion.
Now comes the fun part. Making it special with designs and writing!
But where do you start?
In this tutorial I will explain the three simple steps to making that perfect design with piping.
Fill a piping bag with some of your icing. I use buttercream as it is eaier,
Don't have a piping bag? No problem!
Get a plastic bag. (I use a sandwich baggie.)
Fill it on a diagonal with your icing.
Now cut off the corner. You are ready to start!
Squeeze from the top of the bag toward the tip as you go.
Gather the slack in the palm of your hand to maintain pressure.
That is all you need to do!
Piping is a basic technique that can add a lot of polish to the look of your baked goods.
See Filling a Pastry Bag for hints on getting set up.
Remember to use a twist tie to close the top of the pastry bag. This will keep its contents from backing up over your hand as you squeeze.
Stop squeezing before lifting the bag as you pipe, to have a cleaner separation point.
There are a myriad of tips you can use for piping. They all have different results.
Below you will find the 4 most popular used in my home.
Disclaimer: I am a messy decorator. All piping you see on this blog has been done by my daughter-in-law.
Types of Piping Tips
Having the right decorating tips is essential for any bakery, grocery store, or catering company because it gives you options when decorating baked goods. Piping tips come either individually or in sets, so you can order exactly the tip you need or a kit for getting started with decorating.
Piping bag tips are made of durable materials like stainless steel or nickel-plated steel to make them long lasting. But, they need to be hand washed and dried immediately after to prevent rust from forming. Additionally, you should never wash your decorating tips in the dishwasher.
Piping tips are also classified into different families based on the size and shape of their openings, and different families are used for different purposes. Below we list some common piping tip types and what they're used for.
Tip TypeS And Common Uses
| | |
| --- | --- |
| Plain Piping Tips | Outlining details, writing, adding dots, filling in flower centers, and completing complicated lattice and lace work |
| Leaf Piping Tips | Making plain, ruffled, or stand-up leaves |
| Drop Flower Piping Tips | Making one-squeeze flowers (the number of cuts on the tip determines the number of petals on the flower) |
| Flower Piping Tips | Making roses, ruffled flowers, cake borders, and more |
| Petal Piping Tips | Designing flower petals, curved decorations, and borders |
| Grass Piping Tips | Adding grass to cakes |
| Ruffle Piping Tips | Creating ribbons, ruffles, swags, bows, scallops, and edges |
| Basketweave Piping Tips | Adding shells, stars, rosettes, and flowers to baked goods |
| Open Star Piping Tips | Adding shells, stars, rosettes, and flowers to baked goods |
| French Star Piping Tips | Creating shells, stars, flowers, and scalloped designs, as well as adding frosting on top of cupcakes |
| Closed Star Piping Tips | Frosting cupcakes and designing stars, fleurs-de-lis, and flowers |
| Swirl Piping Tips | Producing borders and outlines |
| St. Honore Piping Tips | Creating St. Honore cakes |
| Russian Piping Tips | Adding delicate and intricate flowers to cakes and cupcakes |
| Cake Icers | Quickly icing the sides of cakes |
| Bismark Piping Tips | Filling donuts |
Information from Webb's Restaurant Store
Pastry Tip Sizes and Shapes
Decorating tips are assigned different numbers based on the shape and size of their openings. Below is a graphic that shows some of the most common pastry tip numbers and what the result of using them is.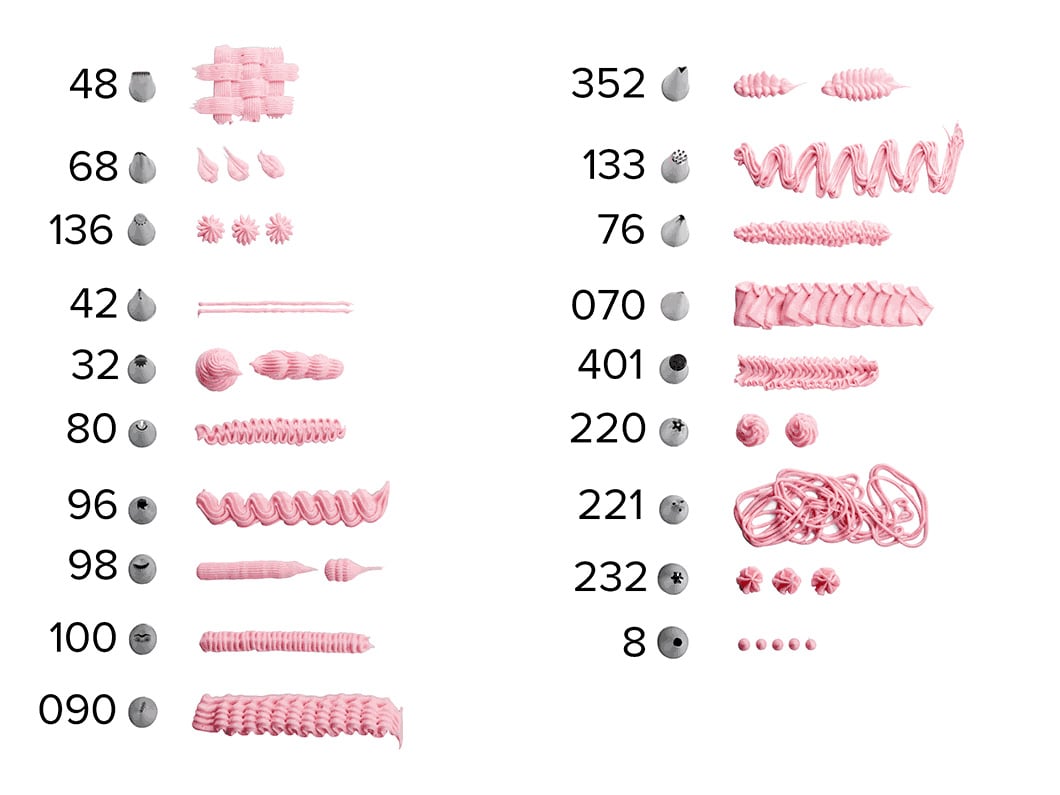 Here are some more ideas for you. Tip Friday Cookie Doneness or Tip Friday Filling A Pastry Bag.
Most images in my Tip Friday Series use free stock photos. This article is part of the Tips That Help in the Kitchen Series, Tip Friday.
Beet Lemon Cupcakes
These cupcakes are nature's answer to sweet and color the manmade processed choices are replaced with the healthier equivalent. 
Check out this recipe
Green Velvet Cupcakes
Green Velvet Cupcakes are such a vibrant colorful treat. If you want to get into the Holiday mood these cupcakes will surely do the trick.
Check out this recipe
Strawberry-Rhubarb Cupcakes
Strawberry Rhubarb Cupcakes ~use your garden fresh produce to make these cupcakes even more fresh and delicious.
Check out this recipe